By Frank Moore, MS, CFP
Back in the mid-1990's I was in my mid-30's and discovered a great vacation property "up north" in Michigan.  The area offered great amenities and the prices were more affordable than some of the more popular tourist towns.  There were places to rent in the area, too, but I wondered if it made sense for us to buy.  So, being a financial planner, I ran through the numbers.
First, of course, was the down payment and mortgage calculations.  I'd received a small windfall that was just enough for the 20% down payment so that was covered.  My income was high enough for the mortgage company to approve the remaining 80%, but that didn't mean that it made any sense to buy it.  A year earlier we'd finished building a new home and it wasn't yet fully furnished and my third child had just been born so the finances were pretty tight.  But I was saving at least 15% of my income toward retirement so maybe there was room to make it work.
The real question for me was whether to buy a place that would lock us in to our summer vacations or have the flexibility of renting a similar spot and being able to visit other areas, too.
When you look at the costs of a second home they add up quickly.  It's not just the mortgage payment.  There's the property taxes, which in Michigan, are much higher for a second home than your primary residence.  There's the second set of utilities: electric, gas, water, cable and internet.  And then there's the maintenance costs.  Unlike at your primary home, you likely won't have the time to do routine maintenance like mowing the yard, landscaping, shoveling the snow, etc. as you can't be in two places at the same time.  Our place was in a condo development so there were good economies of scale in caring for these items, but they came with a monthly association dues bill.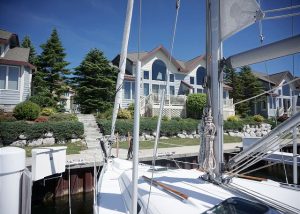 But the costs don't even end there.  We needed to furnish a second home.  Not just with furniture and appliances, but garbage cans, tools, linens, and most of the stuff that you already own in your primary home but don't really think about.  Also, you need to consider who will watch out for your property when you are away.  Do you need an alarm system with another monthly bill and/or a company that can check it out periodically?
On the flip side, we'd have a place that we could use for weekends away and maybe we'd even use it during the winter.  And, of course, everyone knows that real estate appreciates over time so that would offset some of the annual costs, right?
I don't remember the details of my analysis, but I'm sure I overlooked some of the expenses.  The conclusion, though, was that we needed to spend 6 weeks of the year at the vacation property in order to break even with the cost to rent a similar spot.  Fortunately, being self-employed, I was able to find that kind of time.  So we did end up buying the vacation home and really enjoyed it for twenty summers and even several winter weekends.
Last summer we sold our place and I was able to reflect back on one of the key assumptions I made in the buying decision.  I'd assumed back in the '90's that the property would likely appreciate at the rate of inflation, which I assumed would be about 3%.  While prices rose nicely for the first decade, they declined sharply in the financial crisis and were still well below their highs when we sold it.  While we sold it for more than our purchase price, the gains averaged well below inflation at less than 1% per year.  Had I run the analysis knowing the eventual sale price, we would have had to spend about nine weeks per year there instead of six to break even with the cost of renting other vacation properties.  In the end, I'd make the same decision to buy again, but financially we would have been better off renting.
There are non-financial benefits of owning a second home that you can factor into a buying decision and, for some people, a vacation property can be easily affordable.  But expecting a second home to be a good financial investment can often be an expensive mistake.